Research on S.R. Delmont Ltd., Printers, 1900-1970's by Bronte Young Watts ©
Delmont's history goes back to a business known as The Melbourne Engraving Studio when Mr Steven Robert Delmont of North Adelaide joined that business as an adult apprentice to the proprietor Joseph Hanka on 12th April, 1900.  His working hours were 8am-5pm, with his pay being 5s0d per week for the first year, 10s0d for the second year and £1.0d per week for the third year.
Melbourne Engraving Studio was registered on 9th July 1903, and on or after 25th August 1905, the business of The Melbourne Engraving Studio was moved from 11a Flinders Street to Update Studio, Universal Buildings, 20 Grenfell Street, Adelaide, opposite the Register Office.
Joseph Hanka is listed as engraver, 15 Mackinnon Parade, North Adelaide in 1901; in 1902, engraver of 131 Melbourne Street, North Adelaide; and in 1903, photo engraver, Melbourne Engraving Studios, 11a Flinders St, Adelaide, p.r. 71 Gilles St, & partnership with, Stephen Robert Delmont, Wellington Square, and 1904, Melbourne Engraving Studios, Half tone and Line etching, Hanka & Delmont.  On 22nd July 1905, Joseph Hanka retired.
On 24th Sept 1908, Melbourne Engraving Studio became Delmonts Engraving Studio, 20 Grenfell St, Adelaide, S.R.  Delmont proprietor.  Mr. Stephen Robert Delmont was born on 28th February 1879, and died at his home, 130 Cross Road, Highgate, on March 12th, 1948, aged 69.  His father was William George Delmont, sailor, and mother, Caroline Emma Coleman.
Stephen Delmont had been in ill health for some time.  He is buried in the family vault at Waverley Cemetery, New South Wales.  He was a past Federal President of The Master Process Engravers Association.  He had been in business in Adelaide as a photographic engraver for 45 years.  As a member of the SA Royal Yacht Squadron he won many trophies with his motor launch "Para".  He left a widow, a son, William George, and two daughters, Caroline, and Olive.
S.R. Delmont founded The Delmont Medal, which was made available first in 1924, and he presented it annually until 1930, when he decided to make a grant so that that medal would be provided for in perpetuity.  In 1931 he donated the sum of fifty pounds and eighteen gold medals, with the idea of allowing the interest to accumulate to such a time as there would be a sufficient sum to provide the medal each year.
The first payment from the fund was in 1949.  Since then Mr. Delmont has died and his executors donated another fifty pounds to the fund.  The Delmont Medal is awarded to the student who is deemed to be best student over the full course and bears the following inscription: "Awarded to (name) the most brilliant and industrious student."
Steve Delmont became known as a leader in plate making developments.  He was one of the first in Australia to produce tri-colour halftone letterpress engravings.  He was a pioneer of the deep-etched photo litho plate in South Australia, and formed a separate photo litho department in 1932.  He also installed a gravure press and began making gravure plates for the reproduction of valuable paintings in his possession.
When Steve Delmont's health failed in 1941, Mr. W.G. Delmont, joined the company as its chairman.  At the time of joining he had already developed a separate career as a practicing doctor of dentistry.
During World War 11, the staff of Delmonts numbered about 20, and the company largely devoted its efforts to the production of gun-sights, verniers, micrometers, and depth gauges.
Delmonts in 1966 moved from Anster Street (Opp Gas Company) Adelaide to Mile End, occupying about one third of a one-acre site.  At 37-39 Henley Beach Rd, Mile End a new bright and modern factory was erected.  It had parking facilities at the front door, a pleasant modern façade, and eye-catching identification.
Inside the building, the layout is planned for a logical workflow and for speed and orderliness.  An internal communications system is used to keep accurate note, at a central point, of every engraving going through the plant.  Production is currently approaching 1500 Separate Engravings per week.
S.R. Delmont Pty Ltd has changed its name to The Delmont Photo Mechanix Group.  Delmonts are in letterpress and litho platemaking, in photography, in photo silk stencils and in commercial art.  The staff of Delmonts had increased to about 70 and included a number of specialists brought from other States and from overseas.  Two shifts were worked, the night shift being one-third of the size of the day shift.
Expansion was so great during 1965 that since moving to their new premises in Henley Beach Road, the Group had been obliged to take over part of the former premises at Anster Street.  Here, in specially designed and constructed premises, was housed the most modern printed and photo circuit board production equipment.
This division of the Group produced printed and photo circuit boards, chemical machined miniaturised engineering and electronic components and its extensive precious metal plating division was engaged in gold and nickel plating of electronic hardware and printed and photo circuit wiring boards.
Delmonts' recognition of the need for a specialised supply house in the photo circuit and precious metal plating environments, has resulted in the Group forming subsidiary company, Photomechanical Imports Pty Ltd which has recently been appointed sole Australian distributor for a number of leading overseas equipment and proprietary brand chemical manufacturers.
The Delmont Photo Mechanix Group has since changed their name to; Delmont Pty Ltd, Graphic Reproductions, 81 Stephen Terrace, St Peters. Delmont Photo Mechanix Service Pty Ltd registered on 30th June 1967 and defunct 11th Oct 1979. S.R. Delmont began on 4th Nov 1937.
Stephen Robert Delmont also wrote two books: "How to teach the clock time by progressive lessons which has thirty nine diagrams with illustrative text part by G. Robertson and S.R. Delmont, 1924, and City Of Adelaide and Country of South Australia in Photogravure by S.R. Delmont (Adelaide, Rigby 1937). Photographs by S.R. Delmont, Gregory Robertson, E. Lockwood, (Collotype Co Ltd) photo-photogravure.
---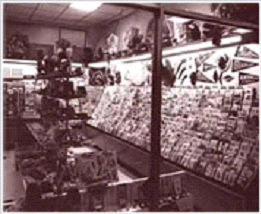 ---
On 22 July 1963, 3 September 1963 and 4 September 1963, they produced postcards for Souvenirs Australia Pty Ltd, three Aborigine postcards, comical cards, photo engraving-colour etching; artists being John Hartley Job, Donald Alan Beck, Foreman, comical cards, and Adrian Eric Bartlett.  Colour etching – photo engraving is made up of dots.  The basic colours are yellow, magenta (red) and cyan (blue).
---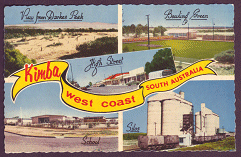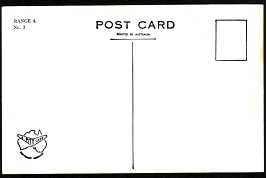 ---
Delmont Postcards for Souvenirs Australia Pty Ltd – One  (c.1963).
John H. Job.
1.  Leigh Creek, South Australia, Community Hall, Aroona Dam, Swimming Pool, Open Cut North Field
2.  Beachport, S.A., Crab Drawing South Australia Fisherman's Co-Op, Beach port from Lighthouse Hill, Beachport Lighthouse (insert view), Penguin Is land, Jetty.
A. Bartlett
3.  Ceduna, South Australia, Main Street, Hotel, B.C.A. Medical Centre and Church, Sign Post, Silos & Gypsum Works.
---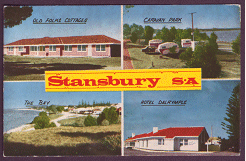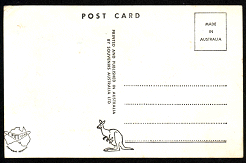 ---
Delmont Postcards for Souvenirs Australia Pty Ltd – Two
1.  Berri, The Berri Pumping Station, The Punt, Main Street, Berri Hotel and Motel, Orange Grove.
2.  Loxton, Hotel, The Main Street, Grape Picking, Swimming Pool, St. Peters Church.
3.  Bordertown, Drawing of Ram, Dukes Highway, High School, Woolshed Street, and Swimming Pool.
4.  Moonta Bay, L.J. Lodge & Co, Approach to the Bay, The Caravan Park, Jetty And Foreshore.
5.  Stansbury, Bowling green, Adelaide Cement Co, Panorama, Caravan Park, Main Street.
6.  Maitland, District Hall, Hospital, Post Office, Memorial, A.N.Z. and Savings Bank.
7.  Tanunda, South Australia, Barossa Valley
8.  Leigh Creek, A. Bartlett (artist), South Australia, Swimming Pool, Aroona Dam, Community Hall, Open Cut North Field.
9.  Kimba, J. Job, (artist) West Coast, South Australia, View from Darkes Peak, Bowling Green, High Street, School, Silos.
10.  Streaky Bay, J. Job, (artist) South Australia, Bay And Jetty, Back Beach, Scales Bay, St Augustus Church Of England, Main Street, Seal Bay.
---
Delmont Postcards for Souvenirs Australia Pty Ltd – Three
1.  Berri, South Australia—A. Bartlett
2.  Loxton, South Australia—J. Job
3.  Bordertown, South Australia—J. Job
4.  Moonta Bay, South Australia
5.  Stansbury, South Australia—A Bartlett
6.  Maitland, South Australia—Don Beck
7.  Tanunda, South Australia, Barossa Valley—J. Job
---
Comical — D. Beck
1.   Getting quite a Glow Day and night
2.   Here's a big Cheerio
3.  They're here in Thousands (Fishermen That Is)
4.  Just caught the mail
5.  We made it – all well and happy
6.  Just one thing – they don't make their boats big enough
7.  All my thoughts are of you though I'm having a wow of a time
8.  Just Landed
9.  Wish you were here to join us
10.  Having an exhausting holiday
Tossing back the small ones
---