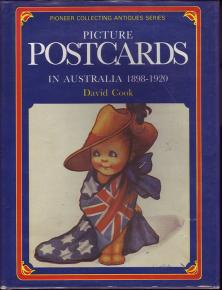 Picture Postcards in Australia 1898-1920
By David Cook
This is a very informative book measuring 190mm x 250mm and containing 215 pages with many illustrations, which are mainly black and white.
There are chapters that cover the history of postcard collecting, which appears to have grown in popularity from the time of the Paris Universal Exhibition of 1889; and Australian Postcard History from the issue of the first Australia postcard issued by the NSW postal authorities in 1875.
Thematic subjects depicted on postcards are talked about including Aborigines and the famous "Beer and Baccy" advertising card issued by the Victorian Government in 1895 and which was quickly banned after a matter of days. Also shown and written about are cards from aviation, animals, actresses, disasters, sport, topographical and royalty, along with other subjects.
Postcard artists and postcard publishers are covered with brief biographical backgrounds, and an appendix that contains an Artist's Checklist and a Publisher's Checklist appears at the back of the book. These give lists of known cards and sometimes their numbers.
There is a description of production processes with excellent illustrations showing how to identify the different printing methods. This section can be invaluable when writing up postcards along with a hand-held magnifier. This section alone makes the purchase of this book an excellent investment.
How to Collect Postcards covers the condition to look for, the types of places where they might be available, postal auctions, and the benefits of belonging to a club. The care and storage of collections is discussed in depth and makes excellent reading.
In the small chapter regarding The Value of Postcards it states that consideration should be given to the condition of the card, whether it is used and still carries the stamp, and the cancellation which should be clearly readable.
Finally, Cook says that the method of displaying your collection is important, and to quote him, "Well-catalogued and displayed, it can become a much more attractive and pleasurable property and will thus be worth more as a bulk lot than as a jumble of cards in boxes."
This is a book which is worthy of a place in every postcard collector's bookshelf — not only for the wealth of Australian postcard historical information, but also for the numerous pictures of postcards, sometimes rare but always interesting, that are inside.
First published in 1986 by Pioneer Design Studio Pty. Ltd., of 31 North Road, Lilydale, 3140, Victoria.