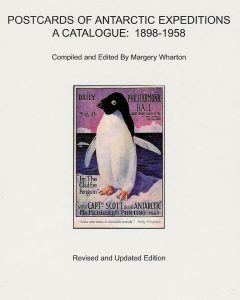 Postcards of Antarctic Expeditions
A Catalogue: 1898-1958
(2nd Edition, 2007) by Margery Wharton, ISBN 0953307409
Nine years after the publication of the first book to catalogue the Postcards of Antarctic Expeditions, a second edition has been published.  This book is in larger format and has 90 more pages than the first edition.  Every card listed in the original book is in this edition but there are over 250 new cards added to the listing.  The entire book has been revised and updated.
Twenty-three major Antarctic expeditions are described in detail together with their commemorative postcards. The stories behind the production of the cards are told including biographies of the explorers and background information about the pictures.  In addition there are sections on advertising and memoriam postcards.
Separate indexes are given for the postcard titles, the ships and the surnames of those depicted on the cards.  By means of a numbering system every card can be individually identified.  There is also an introduction and a guide to using the catalogue.  This unique book, which is far more than simply a listing, should be of interest to all those who are fascinated by Antarctic history, whether postcard collectors or not.
The author has visited the Antarctic Peninsula twice and in early 1998 visited the Ross Sea area, including the Historic Huts.  She also took part in a circumnavigation of South Georgia in 2000.  Personal research has involved visits to Australia, New Zealand and the Falkland Islands as well as to the Scott Polar Research Institute in Cambridge and contacts with Antarctic postcard collectors and philatelists throughout the world.  Sadly, Margery died in September 2008.
Specifications: Hard back casebound with full colour laminated cover, printed on long-life paper.
362 pages (170mm x 250mm) with over 1000 illustrations in black and white, three maps.  Eight-page colour section.  More details and sample pages can be found on the website (See below).
Price is AU$90.00 for delivery within Australia (packing and postage included).